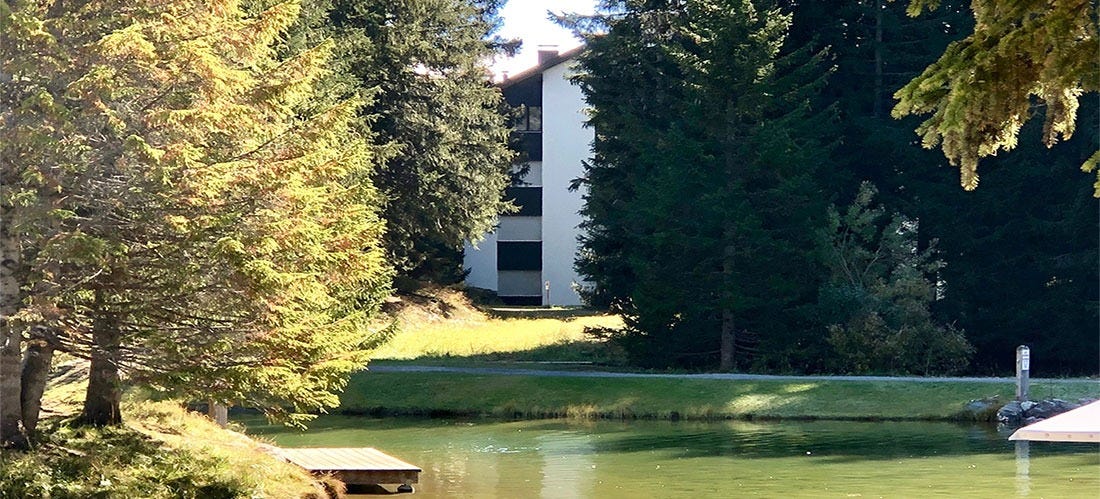 Lenzerheide Seegarten
Welcome to the Swiss Alps! Our two residences "ACLETTA" (ground level) and "GRANGIA" (2nd floor with elevator) are not just ordinary rental apartments, they are tastefully furnished freehold flats completely facing south. You will get direct sunlight in each apartment during the whole day and you can enjoy the closeby lake, forests and mountain tops surrounding the beautiful ski resort Lenzerheide. Both apartments are for rent throughout the year, as Lenzerheide is beautiful in every season.
see below for more information
Acletta (1 1/2 room)
The 1 1/2 room apartment is located on the ground level with a terrace facing south. It hosts up to 2 adults and two children.
Grangia (2 room)
The 2 room apartment Grangia is located on the second floor with a balcony facing south. You can take the elevator to and from the apartment. It hosts up to four adults.
The pirates bay
In only 100 yards distance from our apartments you'll find the popular pirates bay, a kids playing area with an artificial waterfall, swimming docks, playground and food court, right on the lake.
Winter sports
The nordic skiing slopes start right at our door steps.
For alpine skiing it will be just a 3 minutes walk to enter the large skiing area of Arosa Lenzerheide.
Hike and bike
Between May and October Lenzerheide is famous for its mountain bike and hiking trails.
Complimentary Shuttle
In 100 yards distance from the apartment the complinmentary shuttle bus "Sportbus" stops. From late November to early April he runs every 15 minutes and takes you to the main street, Rothorn cable car station and around the lake.
Wassersport Center
In 5 min walking distance the water sports peer invites you for windsurfing or pedalo rental.
Squirrel forest
In the surrounding forests be sure to watch out for squirrels, they come close and like to eat from your hand if you are patient.